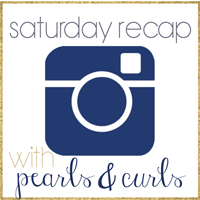 This week I'm taking a break from my regular weekday shenanigans and recapping my Spring Break instead with Sara of
Pearls and Curls
's Instagram linkup. It was perfect and honestly I just wish I could be back right now catching up with friends at the beach.
Cards Against Humanity // I played this with my family on Christmas and loved it. Gerred went to Fedex Kinkos and printed out the card game (because the creators gave the game a creative license that allows you to do this.) And we played the game and had so much fun with it. For those that don't know the game, think Apples to Apples's twisted cousin.
Starbucks // Katie, Montana, and I were walking around base and chilled at the Starbucks for a while with our drinks. I, of course, got juice.
Jeopardy Drinking Game
//
Jeopardy
drinking game! Grab 3 people, partner up with the contestant across from you on screen. Drink when they buzz in, drink twice when they get it wrong, drink twice for double
Jeopardy
, finish your drink if your player wins. Katie and I came up with this.
Pensacola Beach // White sands and relaxation. I was fully covered, sun screened up, and happy.
Flight Suits // These guys were finally issued their flight gear and were happy to wear them to the last few weeks of API and flight suit social. I think I like being engaged to a pilot.
Bear Grylls the Cat // This is Katie and Phoenix's new little kitten. Guess where they got him? Craigslist. He's adorable, energetic and and ready to curl up into a little ball on your chest, shoulder, leg, or back while you are sleeping. You can find him on instagram under the hashtag #beargryllsthecat.
Wine Bar // Gerred and I shared a wine and cheese plate at the World Wine Bar on one of our dinner dates.
Essie No Place Like Chrome // I borrowed this silver nail polish from Katie and it is now my favorite. I got so many compliments.
How was your Spring Break?